If you're not familiar with the packaging industry, it's easy to assume that all corrugated boxes are the same. However, this couldn't be further from the truth. In packaging, corrugated sheets are linerboard or fiberboard. And there are many types of linerboard suitable for various packaging, display, and shipping needs!
Here's a closer look at what makes linerboard different, along with a roundup of the different types of linerboard.
What Is Linerboard?
You probably interact with linerboard or fiberboard every day. Linerboard includes either one or two outer flat sheets of linerboard and an inner piece of "corrugated" paper with waves, ridges, grooves, channels, furrows, or an alternate structure. Each of these individual waves is known as a flute.
When viewed from the side, linerboard is not flat like other types of linerboard. Instead, you see the texture of these flutes. Because of this internal structure, linerboard is a strong yet lightweight material.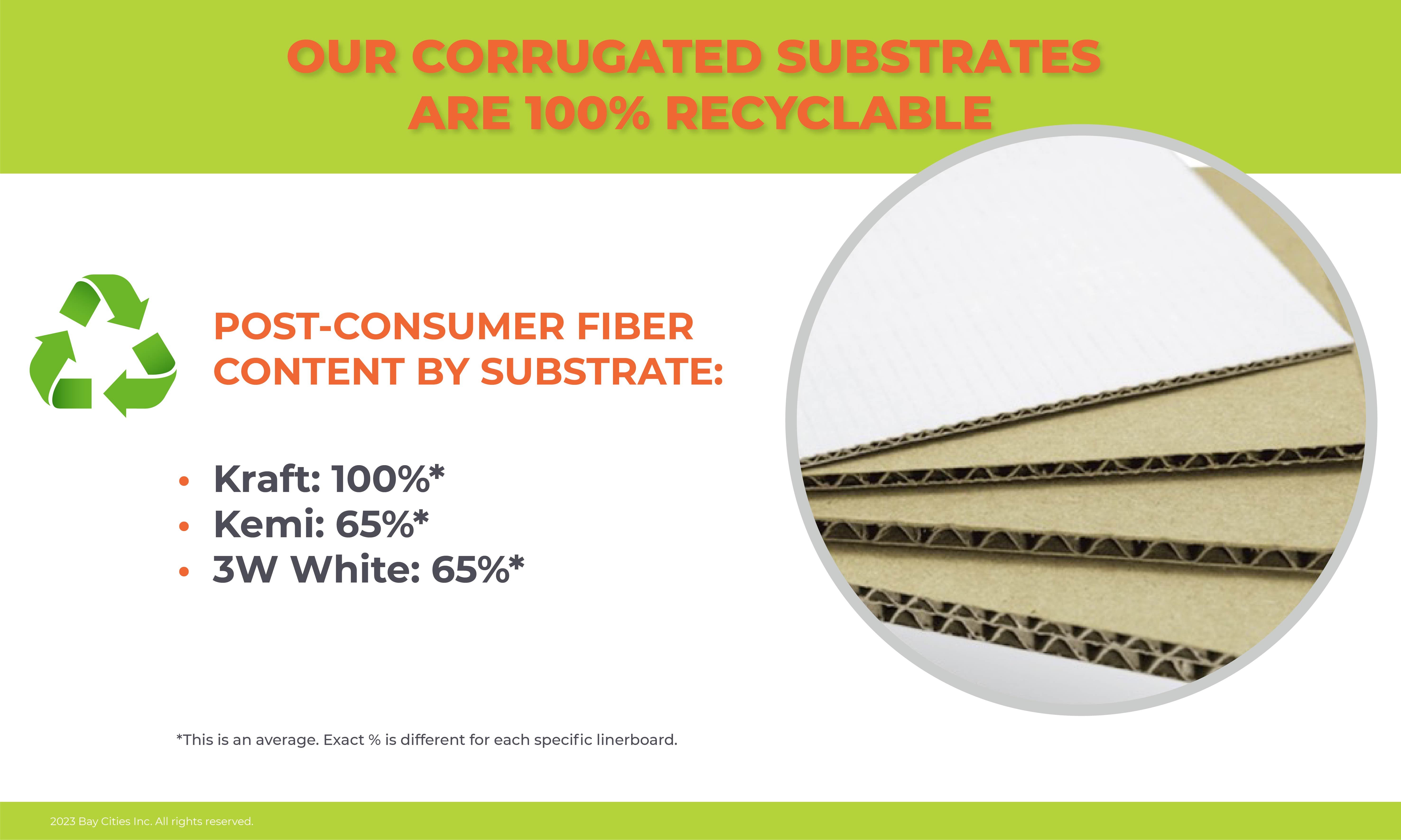 The Benefits of Corrugated Linerboard
Corrugated linerboard offers more strength and cushioning than bare cardboard. Its benefits include:
The ability to support a significant amount of weight
Additional protection during transportation
The ability to resist pressure when applied from different angles
Types of Corrugated Linerboard
All corrugated linerboard and fiberboard aren't created equal. Depending on your shipping, product packaging, or display needs, one type of corrugated linerboard may be more appropriate than another.
Here are examples of some common types of corrugated linerboard:
Single Wall Board. The most prevalent style of corrugated linerboard, single wall board, AKA "double face," features two linerboards sandwiching the corrugated medium. It is often used for shipping boxes.
Double Wall. This type of corrugated fiberboard, which features three linerboard sheets with two interior layers of fluting, is very resistant to breaking when stacked. It is often used for heavier objects and larger industrial containers.

Different types of linerboard are also available in several flute types. Each of these varies across factors, including thinness, strength, and durability. They include:
C-flute: At 5/32nds of an inch thick and 39 flutes per foot, this common type of corrugated flute is adequate for most shipping needs and has a good surface for printing.
B-flute: At 1/8 of an inch thick and 47 flutes per foot, this type of corrugated flute is a popular pick for small boxes and products. While strong, it folds and prints well — making it an ideal choice for fiberboard cutouts for POP displays. These properties make it one of the most commonly used flute types.
E-flute: This linerboard is ideal for folding and printing at 1/16 of an inch thick and 90 flutes per foot. These properties make it a common and reliable choice for the primary packaging for everything — from cosmetics to pizza boxes.
F-flute: At just 1/16 of an inch thick and 125 flutes per foot, this type of corrugated fiberboard is micro-thin, suitable for printing, and uses less fiber. This flute type is not as common for packaging or displays, but it is often used for items like fast-food clamshells.
Generally speaking, larger flute profiles offer better cushioning and vertical compression strength, while smaller flute profiles offer more flexible structural and graphics performance.
Find the Right Packaging & Displays at Bay Cities
It's no surprise that linerboard is a go-to material for retail display and packaging products. There's a lot to consider regarding corrugated cardboard options for your brand's packaging or displays. At Bay Cities Packaging and Design, we'll review your needs and pull from our extensive experience to advise your corrugated linerboard options from our selection of corrugate.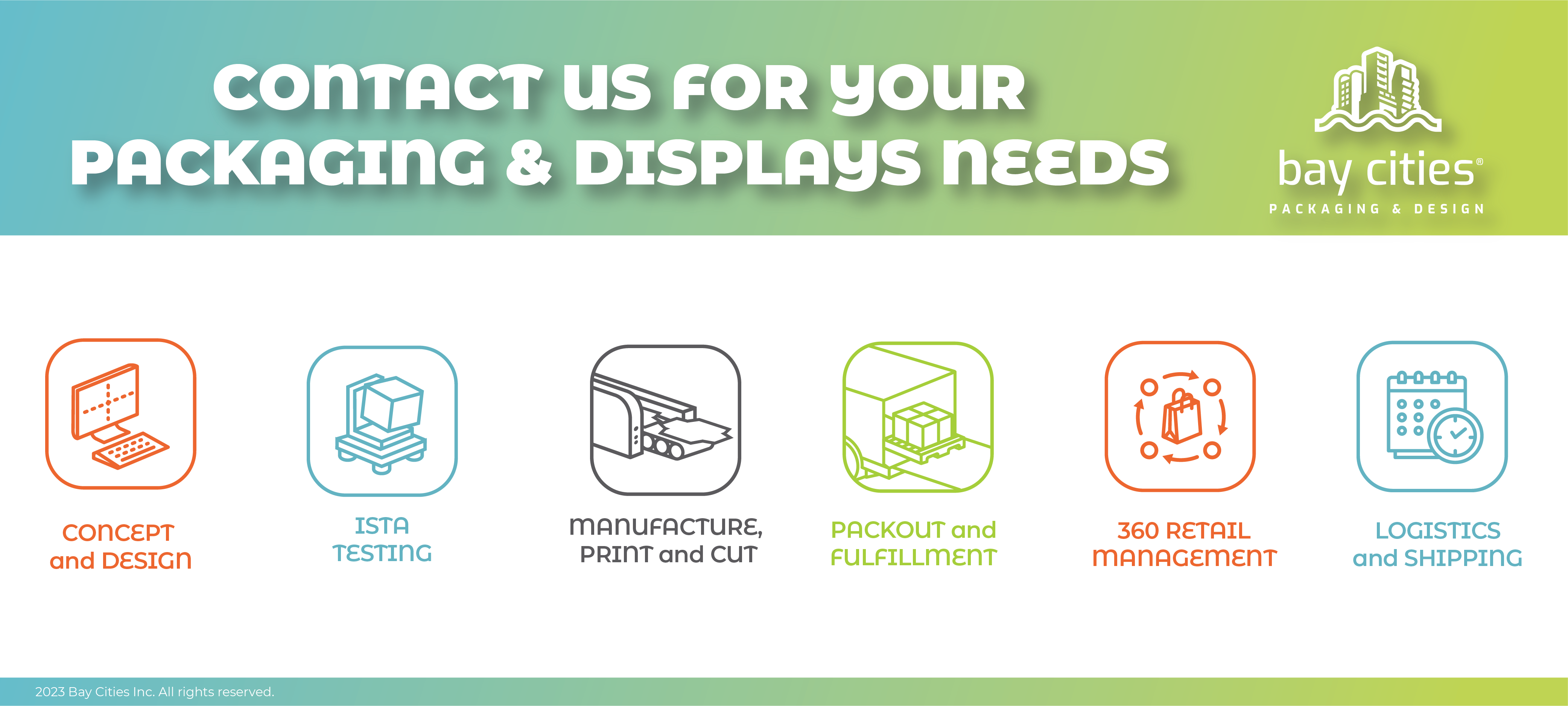 Whether you're looking for the right material for POP displays or have the goal of embracing sustainable product packaging, Bay Cities Packaging and Design can help. Not only do we offer a comprehensive line of packaging and display products backed by rigorous ISTA testing, but we also offer related services, including concept and design, logistics and packout, retail display campaign programs, and more.
Have a question about the different types of linerboard? Ready to start your packaging or display project with Bay Cities Packaging and Design? Contact us today.