Sustainability has been and will continue to be a prominent driving force in how many companies do business as we strive to do our part to #SavetheEarth. Adopting sustainable practices is much more than a trending fad, it's a necessary step to guarantee the protection of the environment and aid in the regeneration of our ecosystems. According to The National Retail Federation, nearly 8 in 10 respondents indicate sustainability is important to them, with over 70% willing to pay more to brands that are sustainable and environmentally responsible.
With this heightened demand for companies to get in line with more sustainable initiatives, it's also important to be openly transparent and vocal about your Climate Action Plan. Here's a round-up of the strides we took to improve and update our sustainability efforts in 2022.


Introduced Water-Based Inks & Adhesives
The acquisition of the HP C500 digital printer has opened a multitude of new opportunities for Bay Cities clients. Our entire fleet of digital presses cut production time for a faster turnaround without the need for print plates, but the C500 is especially sustainable because it utilizes true water-based inks. These FDA certified inks are safe for food grade packaging and eco-friendly for our environment.
Utilizing water-based inks has lowered and at times completely removed volatile organic compounds (VOCs) from our flexo printing production cycle as well. It has increased the lifespan of our printing plates, and reintegrated materials back into our local communities much easier.
Our water-based adhesives are formulated from an organic, biodegradable polymer and have also successfully reduced our overall adhesive consumption. We have an eco-friendly process to reclaim the little waste that is produced and reuse it yet again.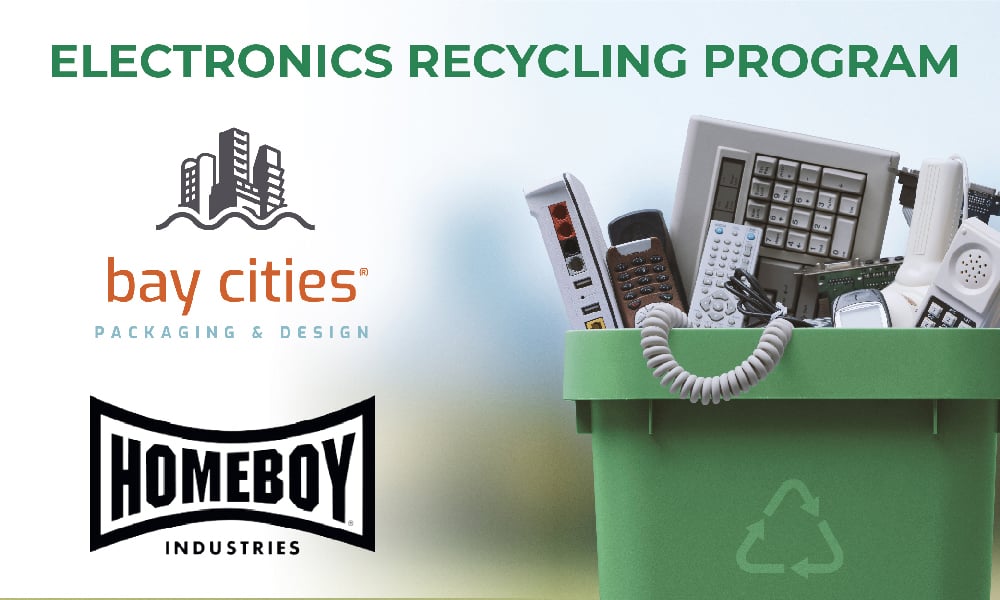 Implemented Ethical E-waste Disposal
Our partnership with Homeboy Industries means that all onsite e-waste accumulated will be transferred and properly disposed of or reused where applicable. Items like computers, monitors, and cell phones cannot be thrown into a landfill without resulting in harmful e-waste, so their Electronic Recycling Program ensures that the procedures for disposal are secure, ethical, and eco-friendly.
This partnership also provides the opportunity to give back to the community. Homeboy Industries is a rehab and re-entry organization focused on providing opportunities to formerly gang-related and incarcerated individuals looking to transform their lives for the better since 1988. They provide workforce and trade development support in various fields to encourage alternative career choices for those enrolled, including jobs that are environmentally sustainable and relevant to the information economy. For every 75,000 lbs. of electronic equipment collected, a new job is created to continue the lifecycle of support.
Installed a Bottle Refill Water Fountain
In both the Pico Rivera and Bentonville Bay Cities locations, we took sustainability the next level by installing bottle refill water fountains to cut down on single-use cups & the costs associated. So far this year, we have saved over 4,000 water bottles, while keeping all the employees pleasantly hydrated and environmentally responsible.
Following the installation of our bottle refill water fountains, we made sure every employee was equipped with the essentials – insulated, reusable water bottles and travel mugs! They're sleek, beautifully branded with the Bay Cities logo, and encourage everyone to do their part and lower their carbon footprint.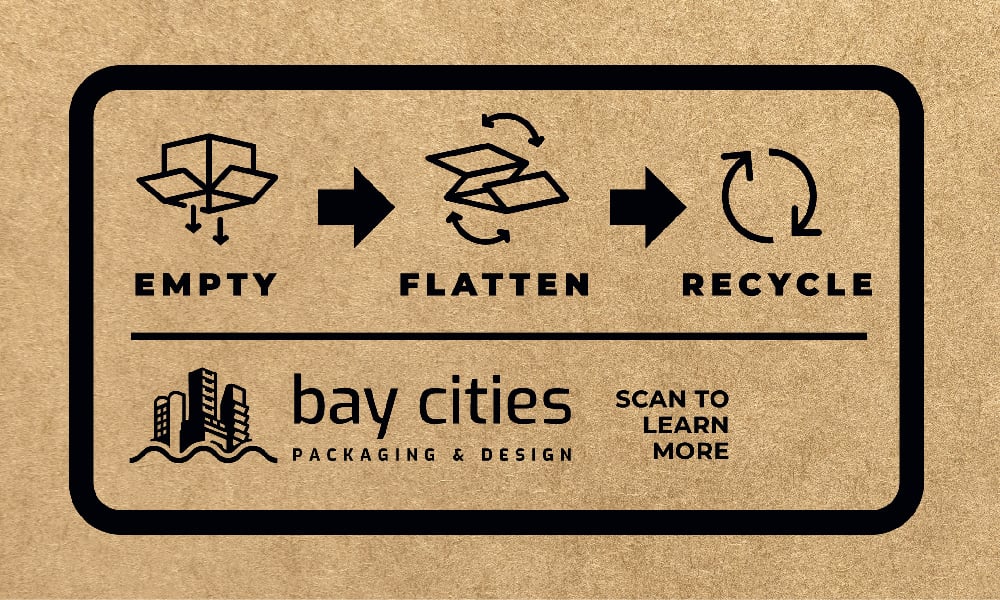 Introduced a "Recycle Me" Box Mark for Client Transparency
Doing our part in the continuation of our circular economy, we designed our own "Recycle Me" box mark, available at no extra cost to our clients in order to encourage consumers to actively and intentionally recycle their corrugated boxes.
Did you know that while we rank recycling as the #1 priority, only 40% of the corrugated boxes shipped to our homes in America are recycled?
Continued the Bay Cities Green Program
Our internal recycling program focuses on being proactively environmental while also helping us reduce operational costs.
Energy:

LED lights, pre-programmed thermostats, and a white cool roof

Chemical:

99% of our chemicals are eco-friendly, inks are water-based and degreasers are biodegradable
Fuel:

We use fuel-saving equipment, ensure full truck loads, and enable night & early morning delivery when roads are clear

Materials:

Corrugated waste and scraps are sent to our paper mill where it is recycled into new sheets and machine tooling is reused whenever possible
2023 brings another year of opportunities to research, update and implement even more sustainability initiatives to protect the environment, contribute to the circular economy, and ultimately get as close to zero waste as possible.