When your product sell-through numbers aren't hitting the goals you established in your business plan, you know it's time to evaluate how you are marketing and promoting your products.
Using colorful, creatively designed displays in retail helps you meet and communicate with customers right where they are. Rather than taking their time doing comparison shopping online, they're actually in a real, brick-and-mortar building where they're primed to make purchases—now. You just need to do a bit more to get your products in front of them when they're milling about pushing a shopping cart.
What type of display might be best for the kinds of products your company is selling in retail locations? It pays to be open minded about methods to promote your items, since you might find a way to build market share faster than competitors when you take pains to stand out.
Chances are that you've heard of power wing displays, which are also known as sidekick or gravity feed displays. They are a unique type of point-of-purchase or POP display that you can hang or attach to store shelving.
Researchers studying various types of displays in retail environments determined that 10% of shoppers' visual attention went to power wings, indicating that they are close in effectiveness to in-line displays like gondolas or freestanding metal shelves at 12%, according to a report from the International Journal of Environmental Research and Public Health.
So, if you've been on the fence about these unique and interesting types of displays, maybe now is the time to give them another look. With that in mind, we'll delve into what a power wing display is and how it is unique from other kinds of POP displays.
You'll get an idea of some of the best use cases for power wing displays. This will help when you consult with our team to develop customized power wing displays for your product line.
Why Use a Power Wing?
With a power wing, you'll make the most of the limited space available to you in retail stores. Even when they are thin displays, you have an advantage that each side can hold products or information, replete with high-impact graphics and details about what the product is or what it does.
Generally companies use power wing setups when they are selling impulse items, especially ones that are light or small.
Using a Power Wing Display
You'll find that a power wing display can be quite versatile. They're often hung or attached to shelves with clips, wire backing, or adhesive. In many retail locations, brands will put power wing displays on the sides of endcaps. But you can place them on most shelves in retail settings. That kind of flexibility is ideal, especially when you're preparing to sell your goods in a wide range of locations.
They're also versatile in that you can convert a power wing display into a conventional standing display. This is done by installing the power wing on a base that includes a backing set at an angle to reinforce and hold the display vertically.
You can put your power wings in the areas with prime customer foot traffic and then monitor how well sales go depending on where you test them in different parts of a store. This means, in a sense, that you get the best of both worlds with power wing displays when converted to base-mounted displays, and you can compare how well sell-through rates go in different stores using either approach.
Examples of Power Wing Displays Bay Cities Helped Create
To give you a better idea of the possibilities of retailing with power wings, consider the following examples of these displays that we made for satisfied clients:
Boost Mobile
We used Boost's iconic coloring to set up a bold power wing that has different amounts of cellular data to purchase, along with an opportunity to buy unlimited minutes and data.
It's a relatively small display, which is all the space the company needed to vend these data products, which are ripe for impulse buys.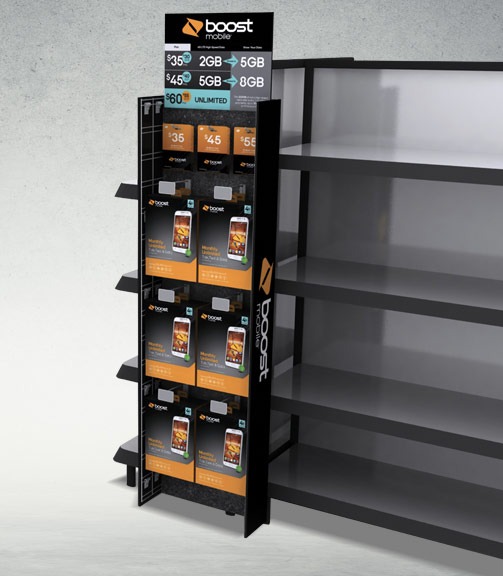 Clif Bars
For the power bar company, Clif Bar, we created a unique "mini wing" power wing display. It features a bold message about finding the product in the cereal aisle as well as in the pharmacy, along with large versions of the logo and branding.
There are eight vertical cuts in this type of power wing display, filled with Clif Bars for customers to grab as they pass by.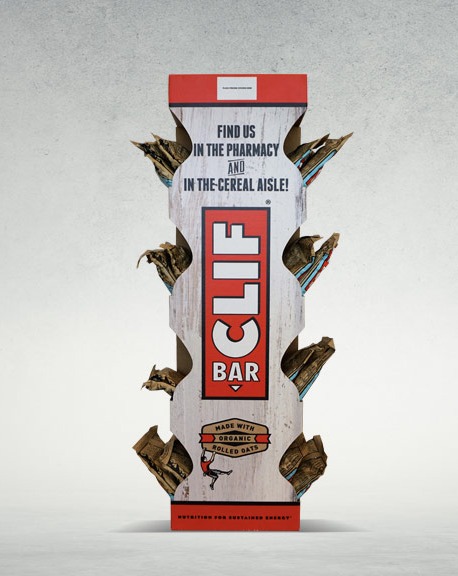 Cutie Cars
The toy phenomenon known as Cutie Cars appeals to little kids, and we developed a vibrant power wing that has dozens of different versions of these toy vehicles. Products hang on pegs in the front of the display for easy grabbing by kids on the ground or by parents walking past pushing a cart filled with demanding offspring.
On the sides of this power wing are large images of each of the toy cars, an advantage for conveying what's fun about them when compared to the relatively smaller amount of real estate for images of each of the packaged toys themselves.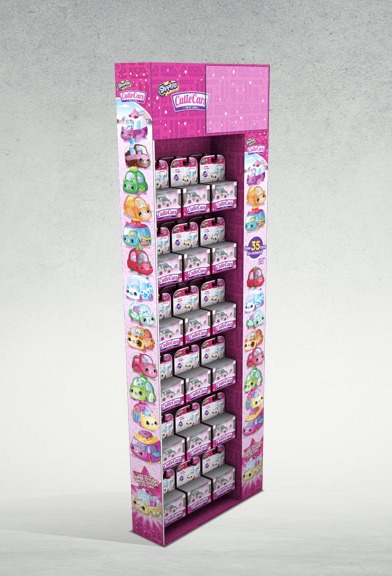 Maximizing Your Retail Sales Floor Space with Power Wing Displays
Since power wing displays are a versatile and eye-catching way to get the attention of shoppers right when they're in a retail setting, they are definitely worth the consideration of you and fellow stakeholders in your company.
To learn more about the capabilities of power wing displays, check out the creative and highly effective examples in our Success Stories.