Retail POP displays can be excellent marketing and sales tools. However, this doesn't mean adding one to your marketing plan is a no-brainer. There are several things to consider when deciding if these branded in-store displays are right for your brand—including how to maximize their benefits.
To help you understand more about whether this marketing strategy will help your brand reach its goals, we've rounded up a list of advantages and disadvantages of retail POP displays.
Advantages of Retail POP Displays
How do you make sure your products stand out from the rest in today's crowded retail landscape? Many brands are turning to retail POP displays. Here's a closer look at three of their advantages:
1. They're versatile
Retail displays are more prominent than product packaging, branded, and positioned to push impulse purchases. Available in many sizes, shapes, and forms, POP displays can be customized to deliver the exact messaging necessary at the perfect time.
Plus, no one knows your brand better than you do. Why leave how your products are displayed to retailers when you can show them exactly how your products should be displayed? In this sense, a well-executed POP display becomes its own "store within a store."
POP displays are designed to catch the attention of consumers. This is especially important when you consider that nearly three-quarters of purchasing decisions are made in stores.
In addition to being popular with brands and buyers, POP displays are also beloved by retailers because of their potential to enhance the customer experience in their stores.
2. They're valuable at every stage of the buyer's journey
POP stands for "point-of-purchase," and there's no overstating the power of retail POP displays in the final stages of the buyer's journey.
However, POP displays also support the complete buyer's journey. When a shopper isn't ready for (or even thinking about) a purchase, POP displays create brand familiarity, build brand perception, and position your brand as the first one consumers will think of as they move further along the buyer's journey.
3. They offer high ROI
As mentioned earlier, the vast majority of buying decisions are made in stores. In pushing these impulse purchases, POP displays directly drive up sales. So while digital marketing for ecommerce may be more buzzy than in-store marketing, there's no denying the fact that most purchases are still being made at physical retail locations.
The takeaway, given the affordability of POP retail displays? POP displays are an excellent marketing solution if you're looking to maximize your marketing budget.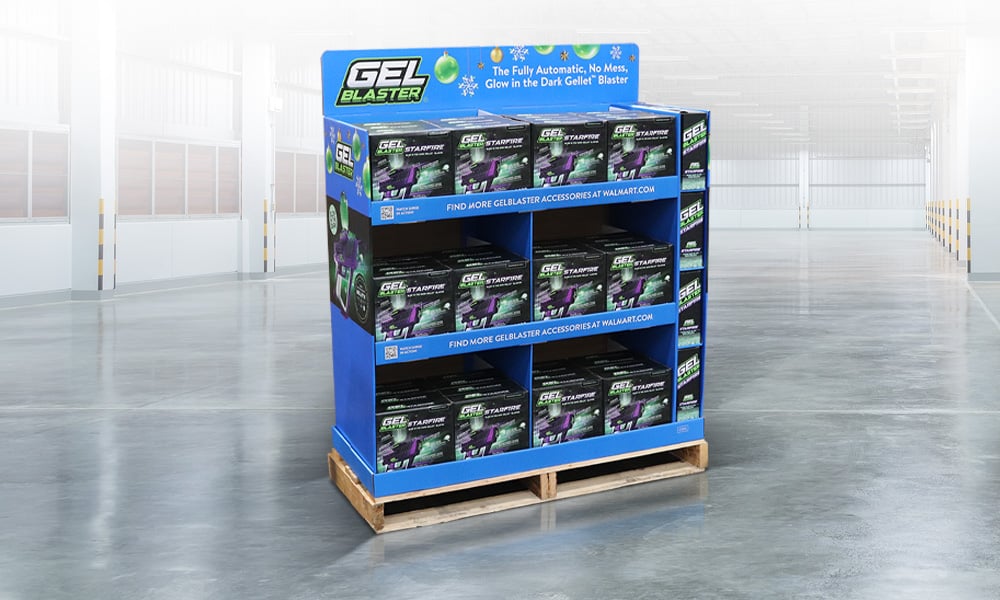 Disadvantages of Retail POP Displays
Now that we've made such a strong case for retail POP displays, you may be ready to incorporate them into your marketing strategies. Before you do, familiarize yourself with these challenges.
1. Every retailer has different specs
Different retailers have different specs, from size to materials to structural integrity. Being mindful of these different requirements—and confirming that your displays meet them—is essential to streamlining the process.
Also, remember that these requirements may change — especially as retailers move toward less waste. To avoid concerns or redesigns, keep up to date and ask about changes if you are unsure.
2. It can be challenging to win a display program
As brands become more aware of the power of POP displays, they're increasingly adding them to their marketing plans. At the same time, physical stores have limited square footage to work with. This means retailers have the ability to pick and choose between potential brands.
The first step in ensuring that they'll choose yours? Having a plan—starting with a knowledgeable display partner who will not only know the ins and outs of the process but will also be able to leverage existing relationships with retailers.
Other tactics include optimizing your display for efficiency, safety, and visibility; timely shipments; retail-readiness of products; and the ability to update/change designs both for evolving requirements and fresh customer experiences.
3. Logistics and transport can be challenging
POP displays must be sturdy and durable enough to hold up to in-store traffic. However, that's not all. They must also be able to withstand shipping and transport. The right display partner is critical here, too.
Not only will an experienced packaging and display company help you with designing effective and efficient POP displays, they'll also work with you to make sure your displays arrive in excellent condition with minimal additional work.

Now that you're aware of the advantages and disadvantages of POP displays, you may be ready to proceed—with caution. That's where we come in. With years of experience and offering comprehensive packaging and design services, including everything from digital printing for retail packaging and displays to POP design, we can help your brand conceptualize, design, create, and implement POP retail displays that get results.