With online purchases becoming more of the norm for everyday necessities, all it takes is a few simple clicks and your time-sensitive, recurring, frivolous, and everything in between, packages are on their way to your doorstep (sometimes with as little as a 1-day turnaround). But with this demand for quick and secure shipping comes the need to guarantee that your package also arrives in good condition — free of broken or damaged elements that only increase a brand's return and damaged/loss inventory rate. This is where ISTA testing enters the chat to support sustainable efforts aimed to reduce the level of damage experienced in transit and in turn, lowering overall carbon emissions.
ISTA, or the International Safe Transit Association, offers a variety of performance testing procedures that provide brands with the information necessary to support how well a package will protect its contents during distribution. Accomplishing net zero carbon emissions is a hefty goal, but not impossible. Big brands and services like Amazon, Pepsi, and Visa have all joined in on the Climate Pledge to achieve net zero carbon emissions by 2040. And Bay Cities is also doing our part in sustainability efforts by ensuring our packaging exceeds ISTA's standards.
It Starts with the Packaging
When Amazon joined the Climate Pledge in 2019, it was no shock that a large portion of their waste came from the millions of packages that passed through their distribution channel. To address this issue without interrupting their current distribution, they started categorizing packaging into 3 tiers – FFP (Frustration Free Packaging), SIOC (Ships in Own Container), and Overbox (an average Amazon shipping box). They provided the necessary guidelines for each tier to all Amazon vendors, breaking down the various ways they could continue with business as usual, while also joining in the mission of accomplishing net zero carbon emissions.
Frustration Free Packaging Means Less Waste
The complaints of parents trying to untwist, cut, pull, detangle, and eventually rip their children's toys out of the claws of packaging have been heard. Plastic blisters, windows, and twist ties that hold product in the perfect position can catch shoppers' eyes at the store level. However, they have no place in the realm of ecommerce. Unboxing should be a frustration-free experience with little waste involved — hold the scissors.
Frustration Free Packaging (or FFP) should be unboxed in under two minutes. It also requires all packaging elements to be 100% curbside recyclable. This means that the entire unboxing experience is simple, easy to deconstruct and discardable in an environmentally conscious way. Plastic windows and exposed product are frowned upon. When product images are clearly seen online, they don't need to be visible through the packaging too. Hang tabs that are traditionally useful in stores or on displays are unnecessary when shipping straight to the consumer, and only add more components to the disposal stage of the product life cycle. Luckily, Bay Cities prides itself in providing eco-friendly packaging , with materials being at minimum 60% recyclable, with our corrugate brown boxes comprised of over 90% recycled materials. This way, you can feel confident that your products are being shipped with the utmost eco-friendly methods in mind, both for you, and your customer. Your box should keep consumers engaged - not irritated.
Eliminate Unboxing More Boxes with SIOC
Have you ever received a giant box and tried to remember what you purchased that could be so huge? Perhaps someone gifted you a canoe? Tearing open the box, you find a small set of ear buds surrounded in an entire roll of bubble wrap. Deceived again. Let's face it – shipping air is not sustainable. With FFP and SIOC (ships in own container) tactics, boxes are designed specifically for the size of your product. It may contain corrugate inserts to hold contents in place, protect them during shipping, or appear more attractive, but that's it. And the benefits are endless —you'll save on shipping expenses and decrease the number of costly damages in transit and supply chain with right-sized packaging. In addition, the amount of returns due to damages will be reduced and drive customer satisfaction to new levels. Skip the puffy air pockets, and have your box designed correctly for ecommerce.
Prep Free Packaging Ensures Pristine Delivery
PFP refers to Amazon Overbox containers designed to ship effectively without the need for Amazon to apply additional prep to prevent damage or leakage. Any products smaller than 6 x 4 x 3/8," those classified as HAZMAT, or certain liquids without the ability to ship in their own container fall into the 3rd tier of Amazon certification. These products are prone to shifting around multiple times while out for distribution and in order to keep them in pristine condition, they are contained in a single secured package, and have a visible, scan-able bar code without having to remove the packaging. This ensures that the product is stationary and able to withstand various external temperatures and maneuvering during transit. ISTA testing for Overbox products is optional but will give you peace of mind that what your consumer sees is what they will get.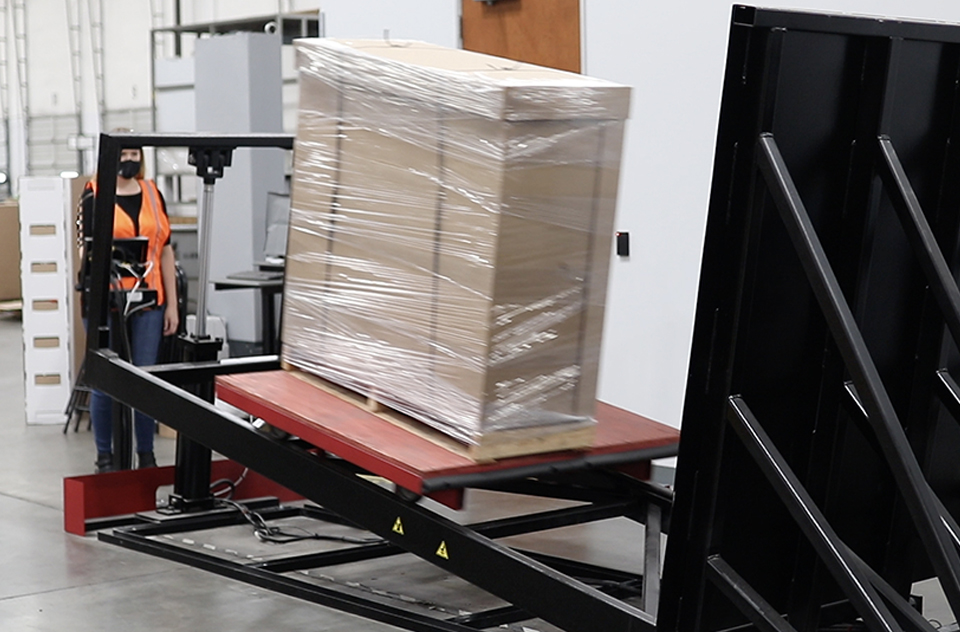 Performance Testing to Fit Every Need
Each Amazon ISTA Test Type A-G has its own series of steps created by Amazon and ISTA. They all consist of preconditioning, then various drops and vibration. It's important to note that each procedure is simply a GENERAL simulation, or ballpark range of testing, to reduce the level of damage experienced in transit. And while we can't test ALL drop and shake scenarios, the ISTA has developed these testing procedures as a standard baseline for the variety of packages according to size, weight, and shipping method. For example, TV's and monitors have their own tests. Elongated or flat packages undergo extra drops. Fragile and liquid products require 5 samples and all 5 must pass. Liquids also require a leak test. You can leave all this up to our experts to determine what test type is needed for your product and package. All you need to do is fill out our Amazon ISTA Testing Questionnaire , and we'll organize the rest.
Bay Cities has an in-house ISTA certified testing lab to support your needs quickly. We also offer turnkey design services, manufacturing, Packout fulfillment, data tracking, logistics, and more. Our design experts can recommend improvements to your box if damages occur and help you understand Amazon's FFP program. Upon quote approval, please label your package accordingly and ship to Bay Cities secured in an outer shipper. This is to guarantee no damages occur prior to testing. We'll inspect your box and confirm everything is correct. Once the test is complete, you will receive an Amazon ISTA Report to submit through Amazon's Vendor Portal for approval.
Amazon took as major step into the future setting the agenda, and other large retailers have followed suite because sustainability can help everyone win. Even if you are not an Amazon vendor, Bay Cities can help design and ISTA test Frustration-Free and SIOC boxes with sustainable and presentable options. Let us create an experience for your consumer that saves you money, excites your target market, and benefits us all in the end.